One of my hobbys is doing little mock bugouts and wilderness survival campouts. Not sure how many others do the same, but here is a new little bag I just made up that allways sits in the back seat...
just incase
.
And for cooler weather I also have a fleece sleeping bag liner stuffed with a piece of Reflectix insulation rolled up and can be attached to the bottom of the bag and a few other cold weather items also under the seat.
I live 11 miles from work and if the need arises I have a back way of hoofing it home where I only spent the last 2 miles walking a dead end country road. The rest of the trip I marked out is a combination of hiking / ATV trails, and powerline runs. And also right along the trip is a pretty good sized lake (hence the fishing kit).
Bag is 11.5 x 5.5 x 6in by VooDoo Tactical
http://www.amazon.com/gp/product/B0088Q ... UTF8&psc=1
Picked up the bag from Amazon on cyber monday for 50% off (@ $13)
Here is everything all layed out
Attached to the outside of the bag:
Steel bottle with insulating sleeve
ESEE-4 knife with accessory pouch and MOLLE backing sheath (goes on my hip if bag is deployed)
In the accessory pouch I have a Sabercut hand saw
Fenix LD12 flashlight with red lens
In the left side pocket:
Matches in waterproof container
Bic lighter
Magnesium block and striker
x2 Troxane fuel tablets
In the front pocket:
x2 Cliff bars
48 hours worth of a 72 hour emergency ration bar
Wetwipes
In the right side pocket:
Altoids very basic FAK
Tylenol and Benadryl in travel tube
Bar of hotel soap
Superglue
Derma-safe folding rasor knife
Alcohol whipes
x5 bandaids
Imodium tablets
Adhesive pad
x2 Knuckle bandages
Altoids fishing kit
30 feet of 12lb line
20 feet dental floss
keychain flashlight
bobber
x4 small lures
Kellys pre-rigged soft lure
x2 sewing needles
x2 xacto knife blades
6in wire leader
x3 screw in eyelets
x3 weighted hooks
x10 fishing hook various sizes
x10 splitshot weights
x2 swivels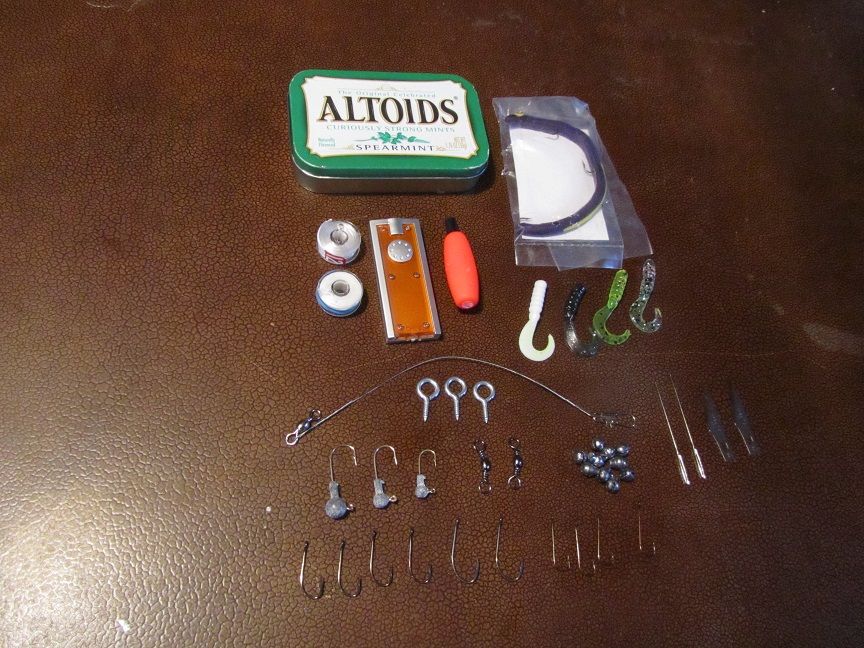 In the main pocket:
5x7 tarp
Sol 2 person emergency blanket
Hooded poncho
x18 extra .40S&W rounds in pellet ammo can
Aquamira water filter
250ft tarred bank line
2.5gal ziploc bag
55 gal drum liner
magnifying lens
9 hour emergency candle
headlamp
x4 AA batteries for my Fenix light
x3 AAA batteries for my headlamp
All packed up