Naked... 4 screws hold the cubby in.
Used a Dremel to angle the places where the wood meets the supports. Did a lot of measuring for this.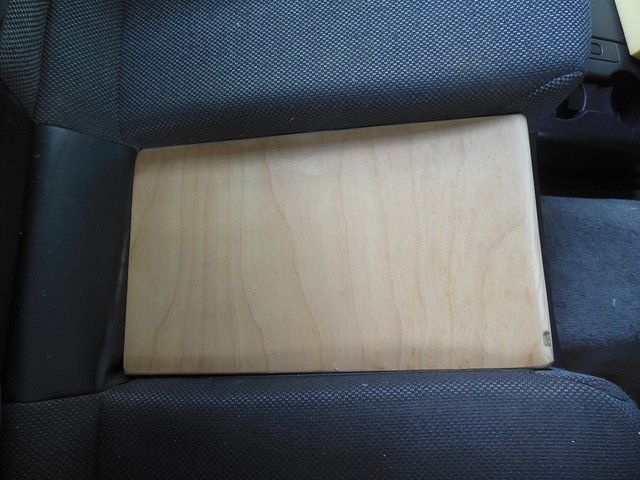 Perfect fit! Well... if I were to do it again I would make the board stick out in the front more to make it fill the area between the seats.
With a longer board the front part could also be taller.
Top view
Sticking a dowel through the drilled holes we used a Forstner drill bit to create the sunken surface for the T-nuts.
Use the densest foam you can find. I did a little more trimming. If I were to do it again, I would use a single piece and fold it around.
The two secure mounting options are to spot weld nuts from the bottom and sew the material on with a zipper to allow access to the bolts or use the T-nuts and access the bolts from below. The holes were drilled with the largest bit we had and then expanded with a grinder tip on the Dremel. Fits the socket nearly perfectly.
A few steps skipped here. Wrapped the vinyl we bought at JoAnn's, removed the two hinge bolts to flip the bench over, and bolted it on. Walla!
The material is nearly a perfect match. (probably was when the car was new =P )