So over the years my rubber/foam flaps for my cup holders pretty much dried out and one broke off, the other was barely hanging on. I had some rubber laying around about the same thickness and decided to make some new ones.
first, pull off the trim piece around the gear shifter by lifting at the corners, it just pops off.
Next, remove the 2 screws holding in the center crap catcher.
Open up your middle console and there are 2 screws at the front of it. Take them out.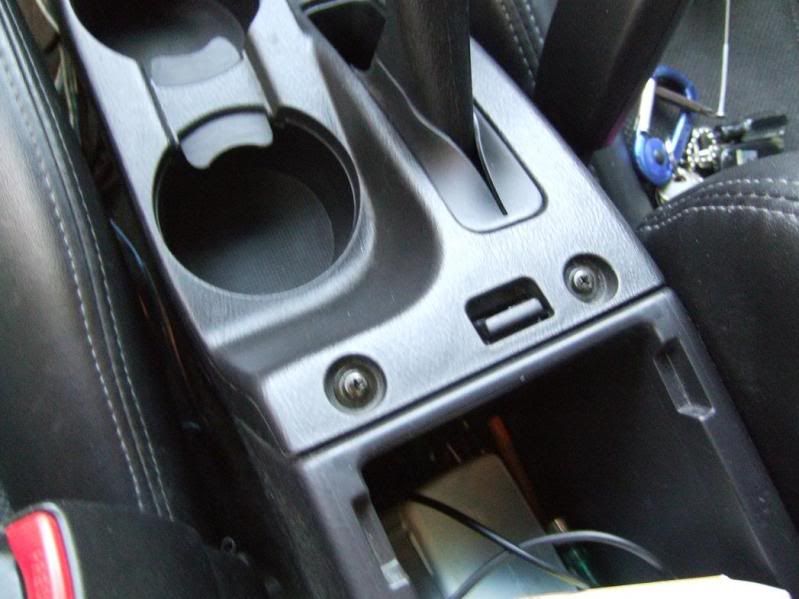 Lift up your E-brake and then pull out the center console now that you have the screws out.
When you get it out and are done realizing how much of a slob you are from all the crap under it, flip it over and take out the 6 screws holding in the cup holder.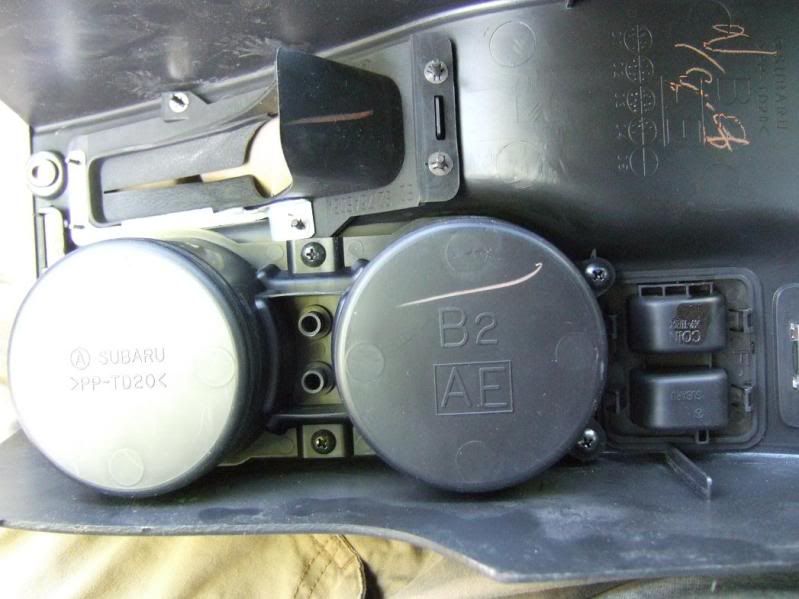 you can then pull out the cup holder and then the rubber piece.
I have pictured here the old rubber piece and the new one I cut out of the rubber I have. It's a little rough but I cleaned up the edges to make them smoother. (I have since made a new one that's a little longer to better hold my Red Bull cans)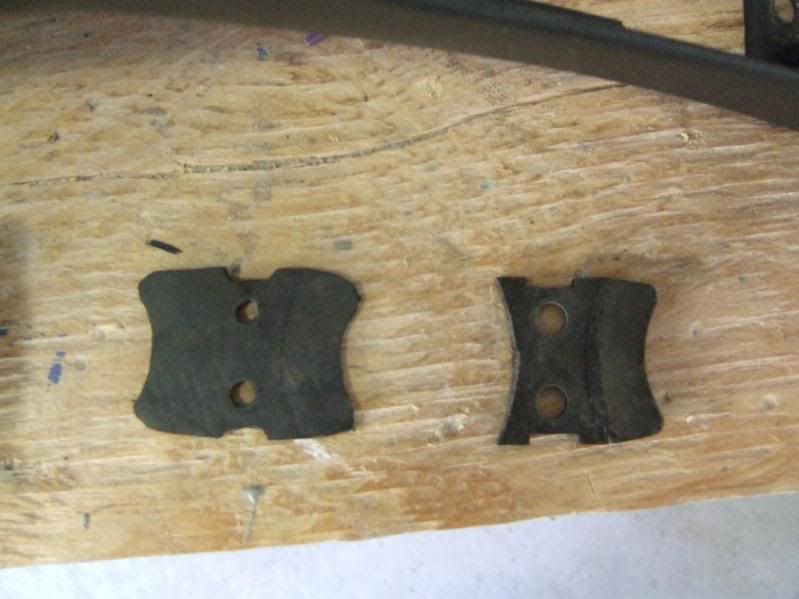 From here you can release the 4 clips holding in the coin holder and pop it out and clean it up since a lot of stuff/soda can get into it.
When I cleaned the coin holder (who uses that thing anyway?!) and put it back in I just put the new rubber in place and put it all back together and it's all done. When I had my center console out I was able to see just how easy it would be to put in some nice blue cup holder lights as well sometime soon....
I had a problem with the bottom of the cup holders as well. Since it's just hard plastic cans and bottles rattle when driving down the road. I took some black anti-slip mat and made some fitted pads. Nice and quiet now.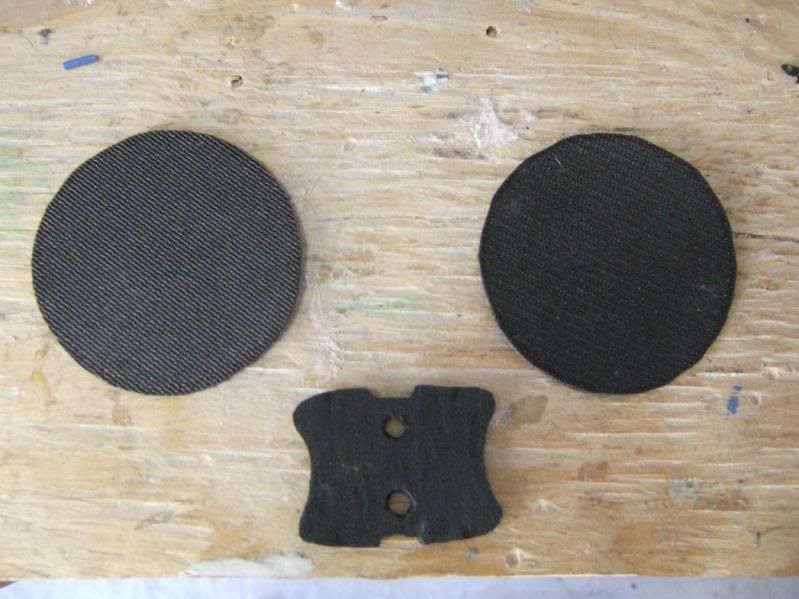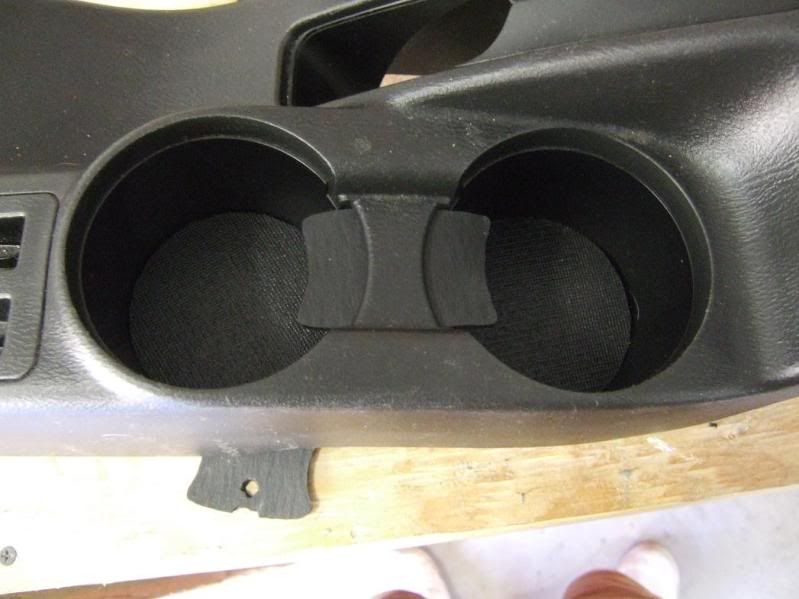 I've got a whole bunch of both the rubber and the anti-slip mat so I'd be glad to make some of these for anyone here that wants them. The aren't super factory-perfect but they are way close enough for me and I'm pretty picky about detail.
Just PM me your address and if you would like everything or just the pads or just the rubber, etc. Also let me know if you would like them a little longer to hold the Red Bull cans if you wish.

**8-17-09 update**
I've sent quite a few of these out and people seem to be happy with them. When you get you pieces, please post in this thread to confirm to others that they have been received! People may feel a bit better if they know people are actually getting them.



To my surprise many of you generous folks are trying to give me money for them. As I said before, I'm doing this for the scoobytruckers and expect nothing in return. However, I am going to post a donation paypal address below for people who wish to donate. All proceeds will go towards new supplies to be used strictly for more cupholder kits. I will also gladly publicly thank all donations in this thread for their generosity (you must send me your username so I know who sent the donation)

PAYPAL DONATION ADDRESS:
Thacrudd@gmail.com
I removed the part about having them out in a week or so. Due to my hysterically busy summer I've slacked a little I must admit, but I would never go back on my word. If you ask for a kit, YOU WILL GET IT unless for some reason I can't make anymore which I don't see happening any more and I'll notify you. Thank you so much to those of you who have been patient with me, it means so much.

Right now I'm developing a no-nonsense cupholder light kit. I'm trying to make it plug-and-play and easy to install. I will let you all know how it's coming along as the time goes by. If you think you would be interested in such a thing, shoot me a line, I'd love to hear from you.

I know some people register just to get a kit. That's fine by me, I'm a fan of anyone that's a fan of a baja. Feel free to stick around though and share your thoughts, experiences, and ideas with us. The larger the active community, the more helpful it is for everyone! I think we're pretty easy to get along with



Finally, thank you to everyone who gives me feedback. If you get a kit and there's a problem I missed (haven't had one yet *knock on wood*) or if you would like it different let me know. If you want it longer, shorter, square or even neon pink, I'll try my best to accommodate. I make these in my garage with a pair of scissors and a dremol and I'm always up for suggestions.
**UPDATE 6-4-10**
Well it's been a long time since my last update. Unfortunately shortly after the last update I had some personal issues I've had to deal with. I had a pretty significant back injury that put me down and out for almost a year now. I have also been caring daily for my grandparents, one of which (my grandfather) has been living with Alzheimer's. Luckily I've finally been able to overcome the situation, assume a steady schedule with my family for their care, and I am finally back at it again. This thread never left my thoughts. I really felt bad for not being able to get these done in a timely fashion but I've gotta take care of number 1 before I can help others. I'm sure you all understand. My biggest fear was that by the time I got these made and sent out the ones that requested them would not have their Baja anymore for one reason or another. I haven't given much attention to the forums here for a while because of mostly not being able to do anything but things are much better and the past couple of months I've been able to do some long awaited work on my ride.
Now that that's out, I'll get down to business. A few of you have asked about rear cupholders. I actually never had taken the rear console apart but I did today and I'm going to share the disassembly process! Here we go-
First, open up the rear console and you'll notice 4 small plastic circles, one in each cupholder and 2 in the catch-all. These are actually plastic caps covering the screws we need to take out.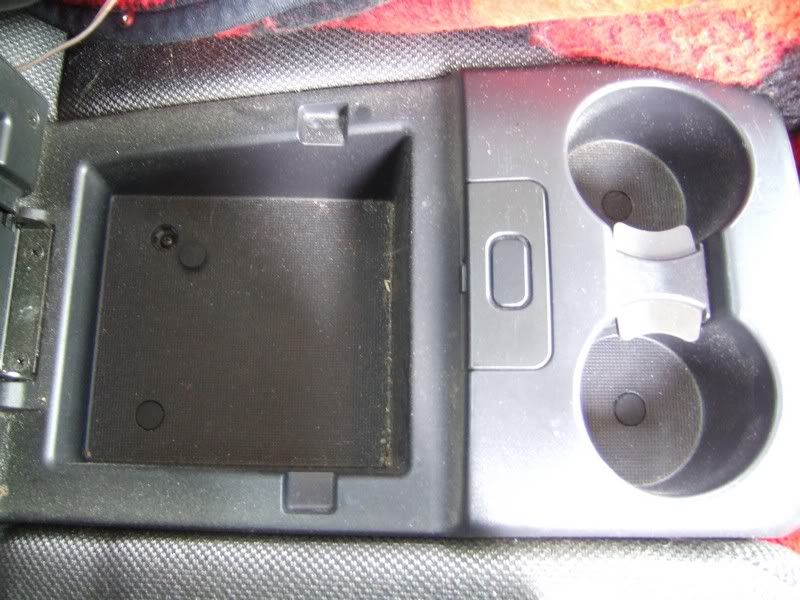 Just to warn you, they are quite the bugger to get out. You need a hard, flat tool to pop them out. Maybe even a thin pick will work. Once you get them out, take the screws out with a phillips screwdriver and just pull the console out. Flip it over and it will look like this: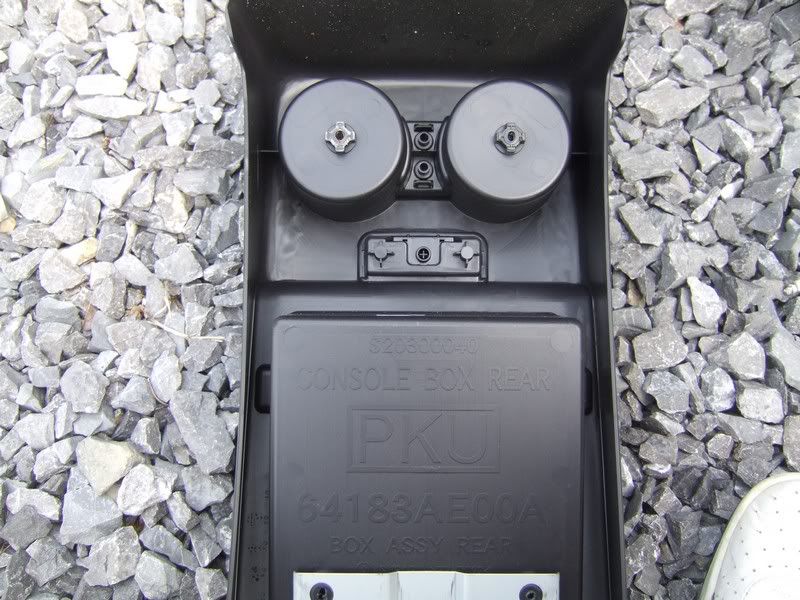 you'll notice 2 tabs in between the cupholders. Squeeze them together and the cupholder center will pop out the other side. It will look like this: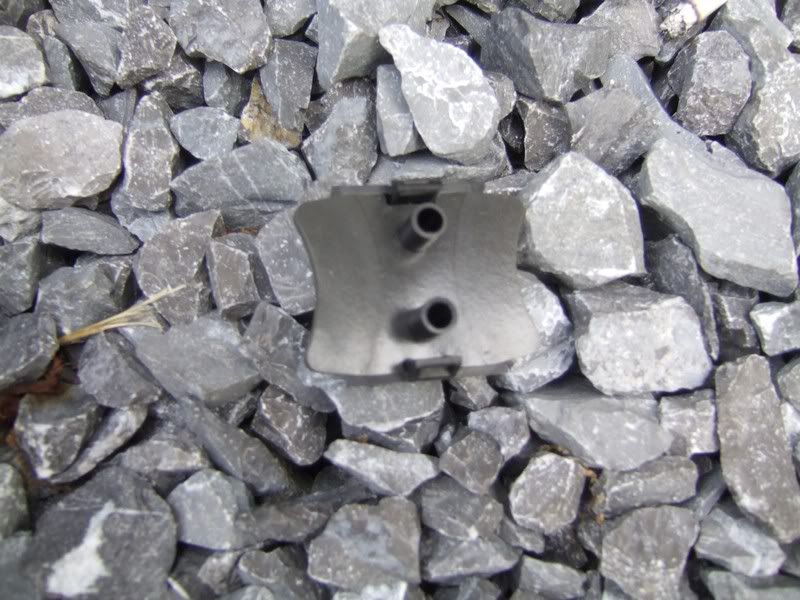 You now have access to the cupholder rubber/foam!

Okay, I thought I would give a little insight into how these are made. If (god forbid) I run out of rubber and can't find a replacement product here's how I do it:
This is the rubber I use. It was a looooong strip of rubber that my great grandfather had from who-knows-where. He kept everything lol. I used it to cover a stool a while back as you can see.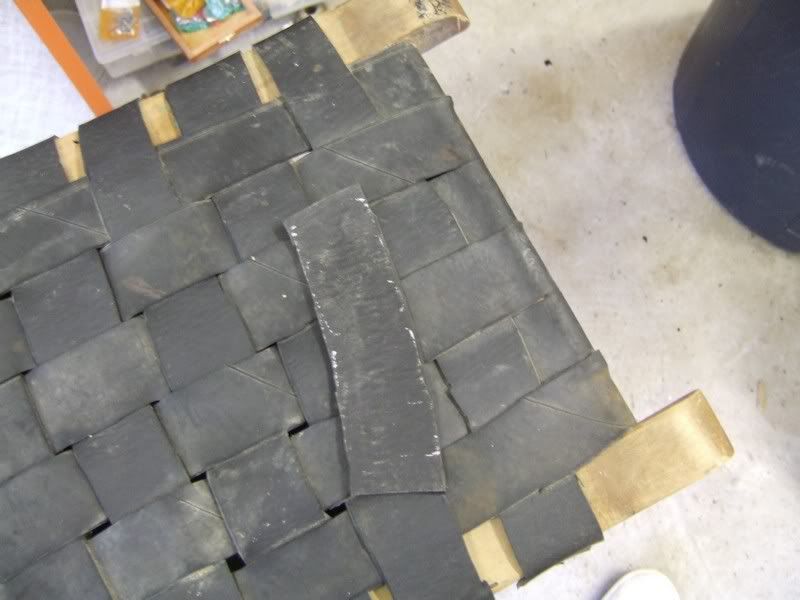 I use an existing cupholder rubber and trace the outline onto the rubber and rough cut them out with scissors.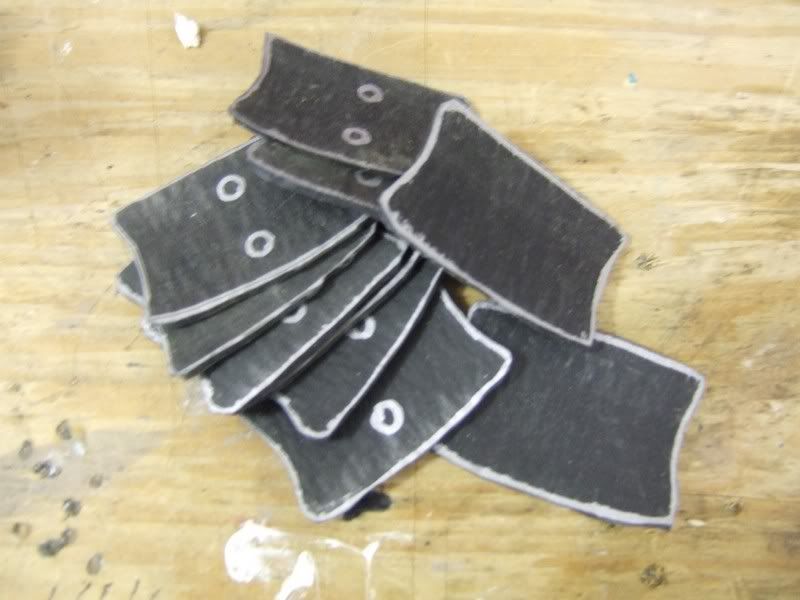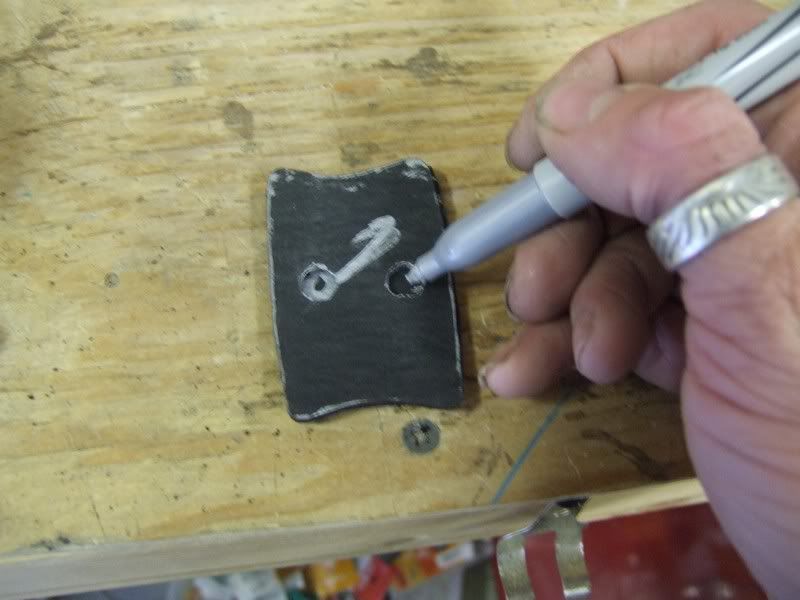 I then use a dremol with a sanding drum to clean up the edges. I then use a diamond bit to poke the holes in the center and clean them out.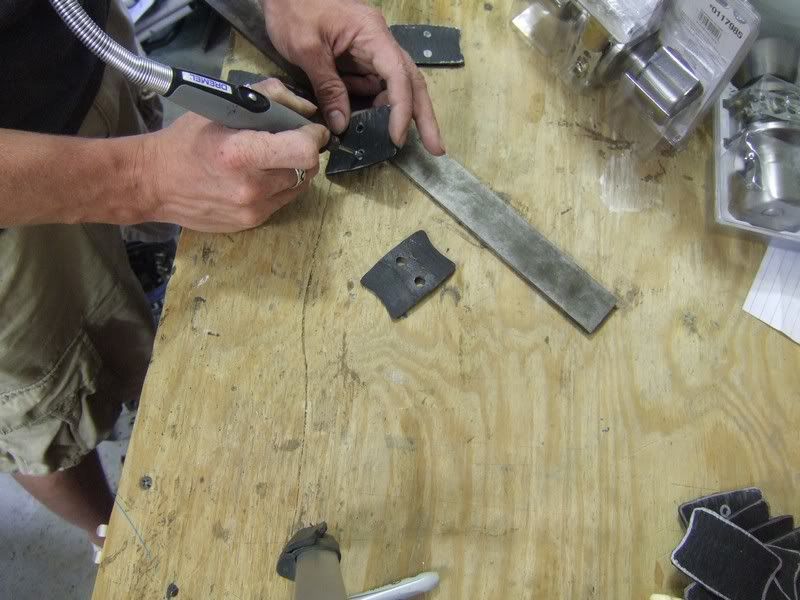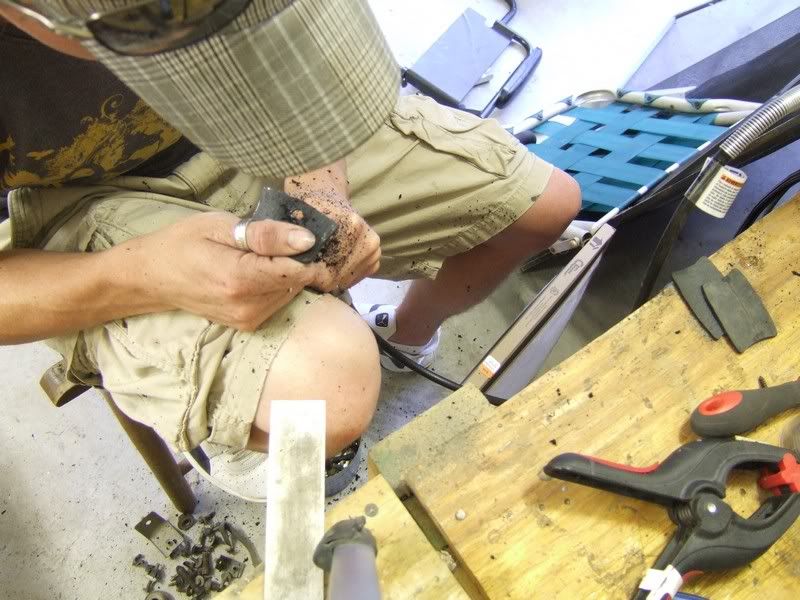 Afterwords I use a product called Goof-Off to remove the silver sharpie still on the rubber: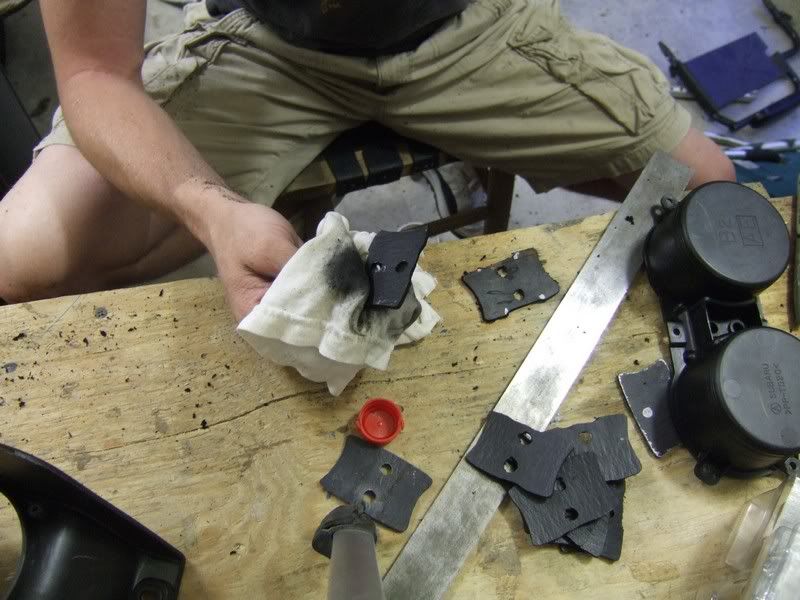 Once I get a bunch of them made I take the middle console out of my Baja and test fit them. Yes, I test fit every one of these in my own console to make sure they look/fit right. About 1/3 of these will have to trimmed again with the dremol before I let them pass. Sadly 2 out of 12 didn't make the cut at all in this batch

.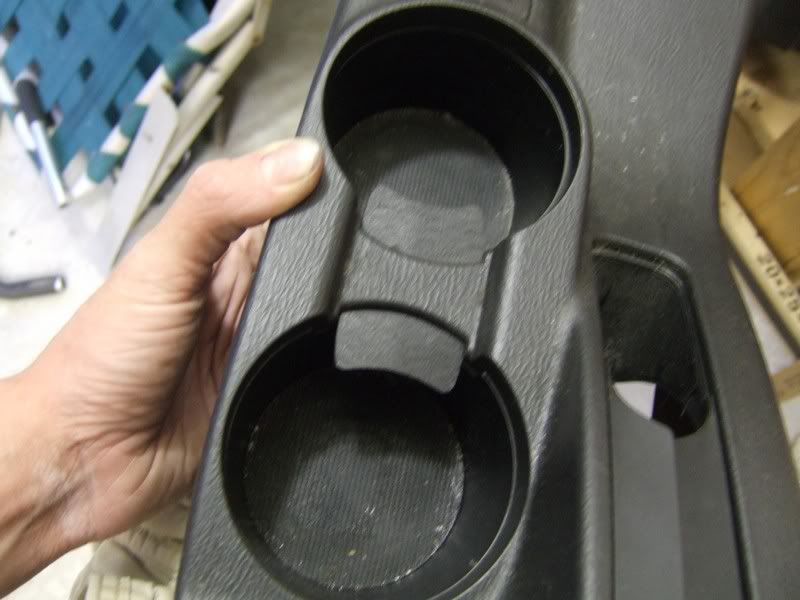 Once I have the passing ones looking good I take some Black magic and give them a quick rub down.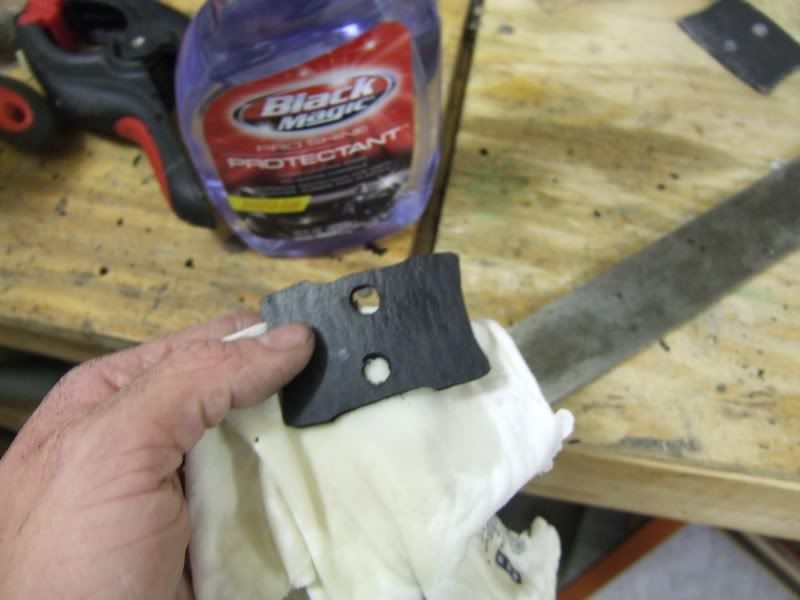 That's pretty much it. They are then ready to be shipped out. It's a couple of hours of messy work to get these 12 done.
Now, on to other business. A few of you have requested an extra set for the back. I went ahead and mode these up but I'm not going to be able to do anymore extra sets for anyone, or at least till I find more product like what I have. One set per person until I find another source of rubber. I'm sorry but I've got to be sure there is enough for everyone, and I have a feeling I'm going to have to take apart my garage stool as it is

As for the cupholder lights I've been working on, I've been trying to make them fit under the cupholder tabs to kinda hide them but there isn't enough room so I'll have to figure something out. I didn't want them to shine in the driver or passengers face but still light the cupholders. I plan on using the same type of LEDs that are used for some of the dash and console lighting since they already have resistors. I'll get it figured out though, and let you all know when I do.
I plan on trying to sell some of these on ebay to hopefully help pay for new supplies (and medical bills!

). Hopefully it will all go well but as always, fellow Scoobytruck members will be taken care of for free. Again, if you are one who runs across this on the web looking for a cupholder solution, please stick around! I'd love to have this place thriving with fellow scoobytruckers!
I need a favor if any of you have access to a decent metal working shop. Basically I need a piece of steel the same size of the cupholder rubber, to use as a template. If you feel you can help me out with this then please contact me so that I can arrange shipping you a rubber to use as a template yourself. I will gladly cover the expenses.
When you receive your kit, it may look a little funky/not so perfect in the middle. Don't worry, you won't see this part and I don't spend as much time making the unseen part as pretty as the visible part. It's also pretty obvious which side goes up because the texture on one side of the rubber is basically exactly the same as the console! I really could not have found a better material for this...
If you contact me for a kit, please use the forum messaging system, not my email. I do not always check it and it shows me you've actually registered. Luckily I've only ran into this once though.
That's pretty much it for now. I am working on another batch this week since I have a bunch more half made already. Shoot me a line if you're in need! As always, keep that ride of yours looking sharp!

~~~~~~~~~~~~~
Many thanks to BGC for his donation!
Many thanks to Andylyco for his donation!
Many thanks to anarchy1024 for his donation!
~Seth aka Thacrudd