Sport Activity Lights not working and found a relay in the spot the instructions give you? Here's what to do:
Problem :
You got a nice sport activity light kit and you go to install the relay under the dash and you can't find a plug and there's already a relay in it's place.
Solution :
It ends up that a lot of the kits were built for earlier model Bajas and they changed some stuff about the relays. If you already have a relay with a green plug in the place it tells you to put the new one, that's the Fuel Pump Relay, not the light relay. You have to go to a Subaru Dealer and get a new relay from the parts department. Mine costed $13.00 but I've read from others any where from $10 to about $40.
The relay's part number you need is
82501AE03A
Here's what it looks like:
You have to plug it into the empty spot under the fuse panel behind the crap catcher under the steering wheel, as shown by the red arrow (I removed the lower dash panel so you can see it better):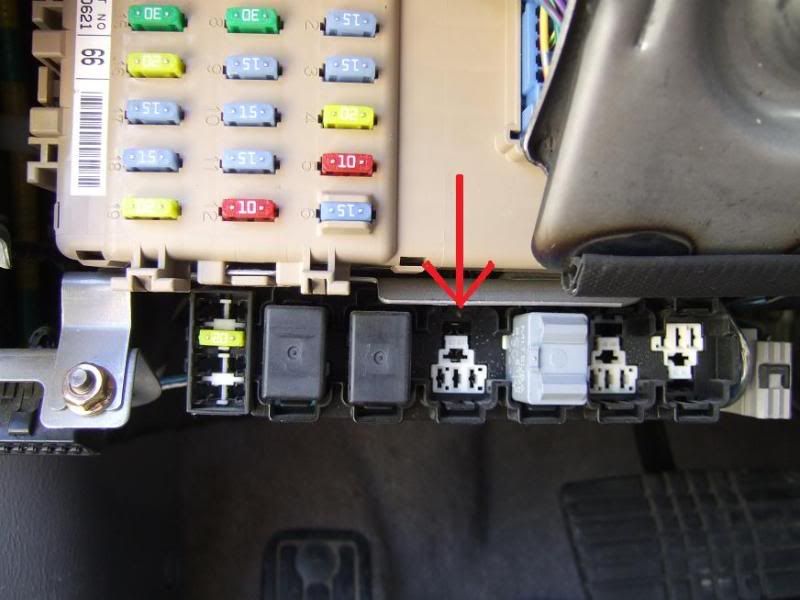 At first glance it looks like the relay will not fit but it does!
Just pop it in and you're good to go. I was able to put mine in by removing the crap catcher and plugging it in from the underside, but it is definitely easier to get to with the entire lower dash panel removed.
The relay they supplied to you can still be used though! It is the same relay as the Fuel Pump Relay that has the green plug so keep the extra one in case your fuel pump realy goes out.