BEFORE
AFTER
*DISCLAIMER*
I am in no way responsible for any damages or unwanted results obtained from you following this tutorial. Use this information at your own discretion, at your own risk. Anyone can use/post this tutorial any where they like, just please give me credit and don't call it your own work.
So I wanted to color match the trim inside my headlights to my black outer paint. Give yourself at least 1 night to do this. An evening to prep and paint, dry overnight, and put back together the next morning. Here's how to do it.
YOU WILL NEED
10mm socket and ratchet
#15 Torx (aka starhead) screwdriver
philips screwdriver
Paint - I used Krylon brand FOR PLASTICS
1000 or 2000 grit paper
painters tape
some rubbing alcohol
a household oven (yes, I said oven)
PATIENCE
First, unscrew the main headlight bulb and be careful not to touch the actual bulb itself.
Next, unscrew the 3 10mm bolts holding on the headlight housing.
Unscrew the 2 parking/blinker bulbs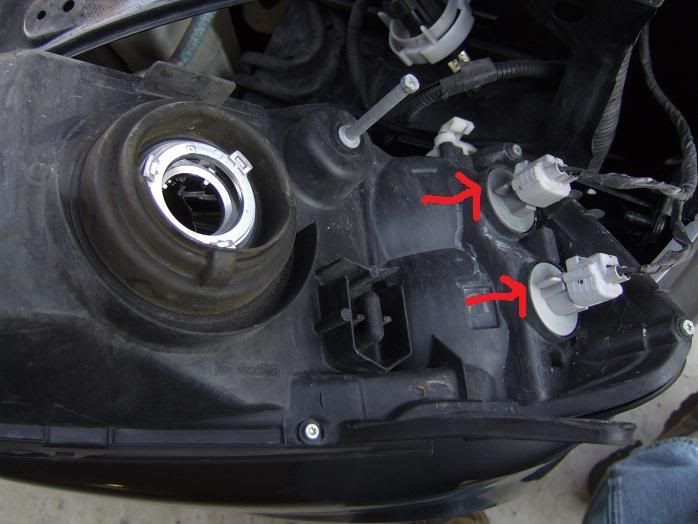 You should then have the housing out. Pull off the rubber ring that goes where your headlight bulb plugs in Seen in the picture above.
You can then remove the white plastic retaining clip and the 2 screws holding it on with a philips screwdriver and remove the screws that hold the housing together with a #15 Torx (aka star head) screwdriver.
Now comes the fun part. Pre-heat your oven to bake 350 degress (f). Get out a flat baking pan and put your headlight on it with the lens facing any way but down. I did not use a convection oven so I don't know how that may make a difference, that is up to you to decide if you own one.
After you oven is preheated to 350, place the headlight on the baking sheet into the oven for 3 MINUTES (yes, it's quite fun explaining this one to the wife...). DO NOT OVER COOK YOUR HEADLIGHT.
Once you get it out, be careful because it's gonna be hot. Use a flathead screwdriver to pry up the tabs around the headlight and pry it open enough to get your hands on it and pull it apart. I'm not gonna lie, it's a real pain in the butt to get apart but it's what has to happen. There is a real strong line of glue around the housing and that why you had to bake it to
soften it up. Once it's open, there will be strings from the glue being warm, kinda like cheese on a pizza when you pick up a slice. Push it back into place while it's still warm.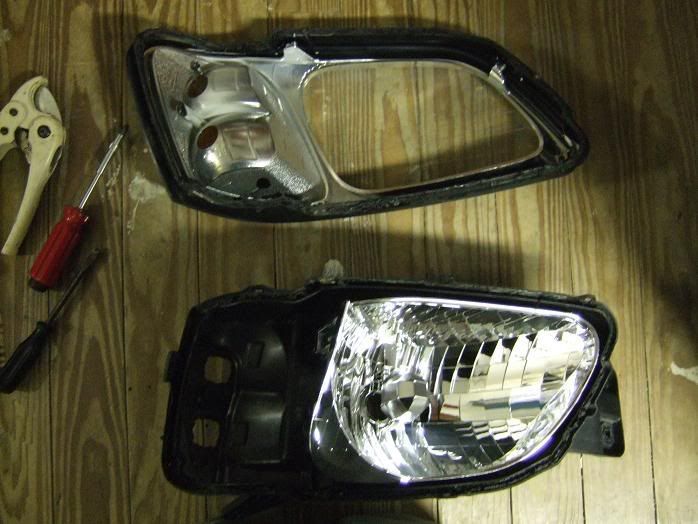 Once it's apart, remove the 3 screws holding in the headlight trim and pull it out.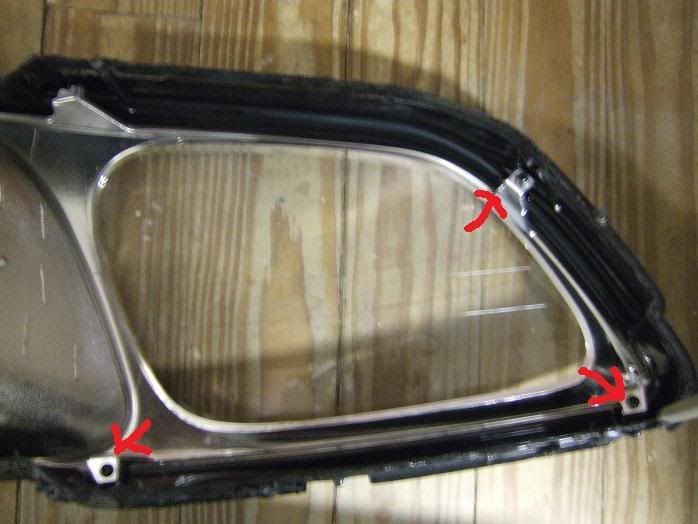 This is what you'll see, so nice and shiny!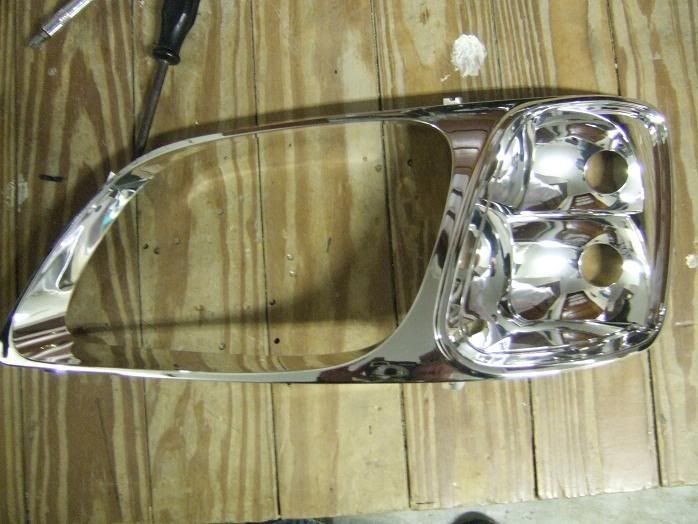 Tape off whatever you don't want to paint, which i taped off the area where the signal lights are. I used an exact-o knife to cut off any excess. Be careful and not cut up the trim piece too much. I used a blue painters tape. The "chrome" coating over the plastic is very thin so be slow and careful removing tape so it won't pull off too much of the coating. You're bound to bull off a couple real small pieces but you'll never see them once the headlight is back together.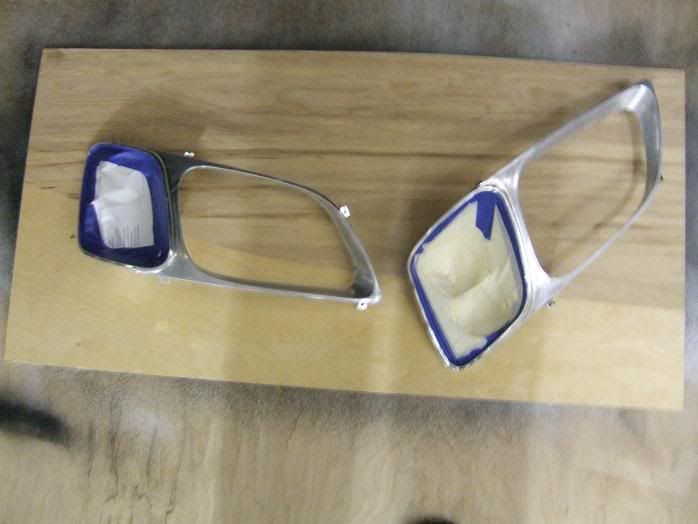 To paint I went over the area to be painted real well with 2000 grit paper. Normally I might start with something a little rougher but the paint I used was a gloss black by Krylon made especially for plastics and it does wonders. Once you are ready to paint, wipe the piece off with no-lint cloth and then again with rubbing alcohol on a no-lint cloth. Double check for debris and set it out to paint. The Krylon paint I used goes on fairly thick. Used short side to side bursts and try not to start or stop a spray pointing directly at the piece.
Here's a pic shortly after painting.
Let it dry for at least overnight before handling it. As I said before, plan on not driving your car at night for one day just to be sure the pieces are good and dry. When you are removing the tape off the masked off area, I actually used a heat gun to heat up the tape real good to make the glue not as tacky to avoid pulling off the chrome coating. I suppose a hairdryer may do the trick as well. You can use the rubbing alcohol to get any fingerprints or leftover tape glue off.
Once you have it ready to put back together, pop them back in the oven at 350 for 2 MINUTES this time to get the glue soft again. Pull them out of the oven and push them back together and put the Torx screws back in. The rest is reverse of how you took it apart.
And the finished product!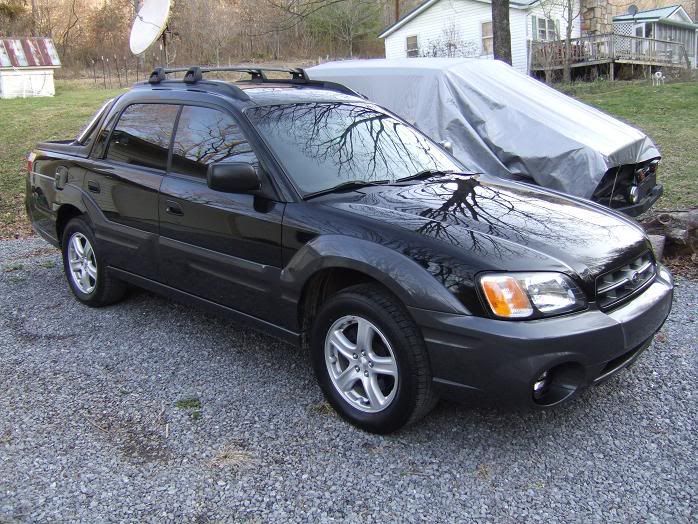 I hope you are as happy with your finished product as I am. You can use any color you please and luckily the same paint I used comes in many other colors. If any of you have any additional questions or pointers let me know. Good luck and happy modding!